---
A CASA volunteer is a trained citizen volunteer who is appointed by a juvenile court judge to advocate for an abused or neglected child's best interests. Volunteers are required to complete our 30 hour pre-service training program and submit to screening and background checks.  You must be 21 years of age or older.
---
Become an Advocate
---
How are CASA volunteers different than social workers, attorneys and others working with children in court?
> CASA volunteers are assigned to only one or two children or sibling groups at a time.
> Our volunteers stay involved on the case from the time of appointment until the child achieves permanency.
> Because of the small number of children a volunteer serves, they have more time to commit to each child.
> CASA volunteers are specially trained to consider issues relevant to the best interests of the child, which may be different than the interests of other parties or the child's wishes. Traditionally, attorneys who represent children are required to advocate for their client's—the child's—wishes.
---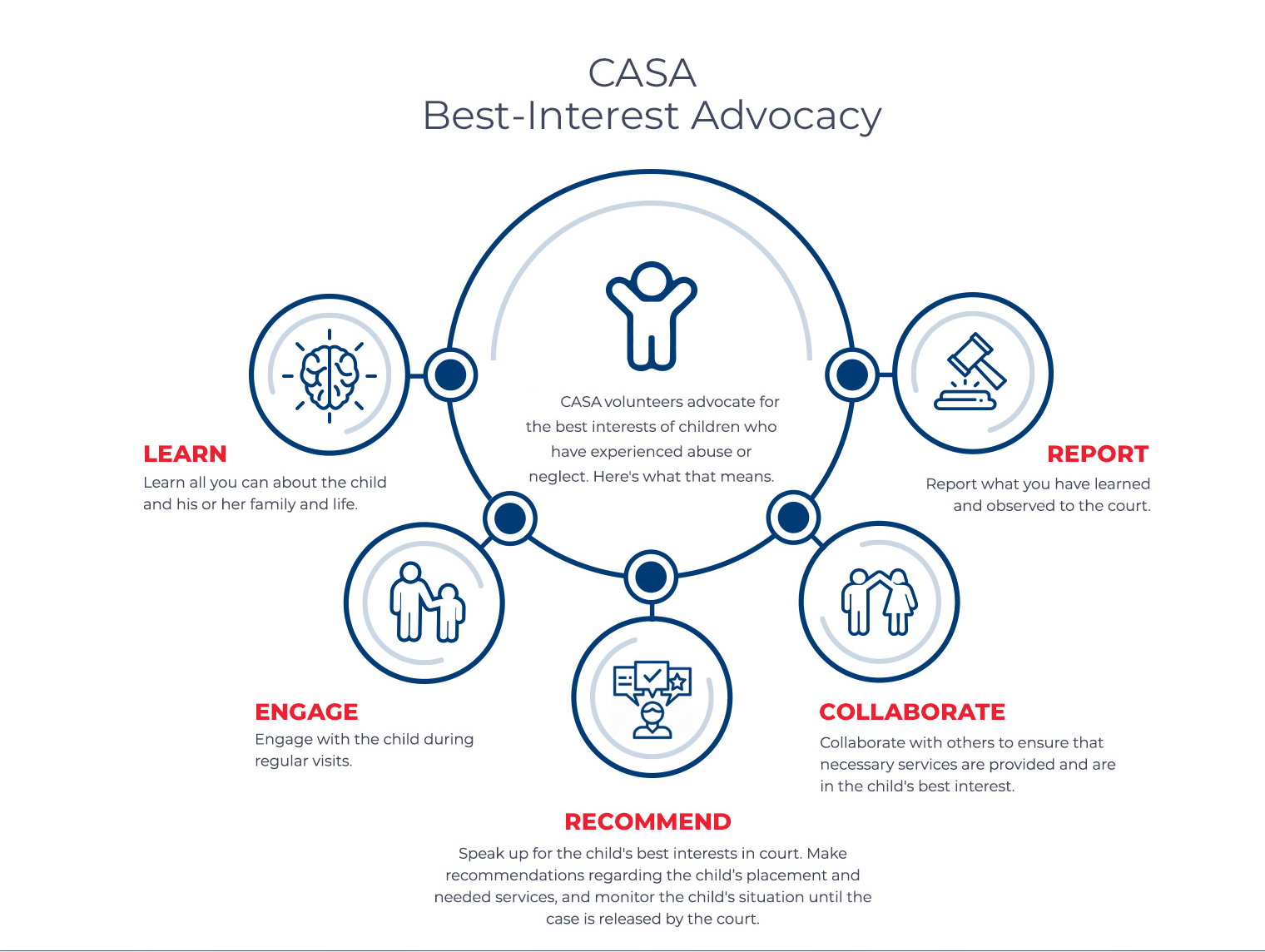 What difference do CASA volunteer advocates make?

> This opportunity allows you to have a significant impact on a child's life and and to see that impact firsthand. Children with CASA advocates are shown to spend less time in foster care and perform better in school than children who don't. As a CASA advocate, you are the constant support in a turbulent time in the child's life when foster parents, judges and social workers can change at any given time.

 

Who are our volunteers, and how are they prepared?

> Regular people, from all walks of life, who have been rigorously screened and trained extensively by their local program.

> Each volunteer receives more than 30 hours of training before they work with a child, with 12 hours of continued education required yearly.

> Receive ongoing support to advocate effectively on a child's behalf.

> On average, CASA volunteers are engaged 10-15 hours a month
---
How Do I Get Started as a CASA volunteer?
Click below to get more information on volunteering.
Not ready to be a volunteer advocate? No problem, stay connected by signing up for our newsletter. We'll be here when you are.