---
A CASA volunteer is a trained citizen volunteer who is appointed by a juvenile court judge to advocate for an abused or neglected child's best interests. Volunteers are required to complete our 30 hour pre-service training program and submit to screening and background checks.  You must be 21 years of age or older.
Join our volunteers!
Become an Advocate
---
How are CASA volunteers different than social workers, attorneys and others working with children in court?
> CASA volunteers are assigned to only one or two children or sibling groups at a time.
> Our volunteers stay involved on the case from the time of appointment until the child achieves permanency.
> Because of the small number of children a volunteer serves, they have more time to commit to each child.
> CASA volunteers are specially trained to consider issues relevant to the best interests of the child, which may be different than the interests of other parties or the child's wishes. Traditionally, attorneys who represent children are required to advocate for their client's—the child's—wishes.
---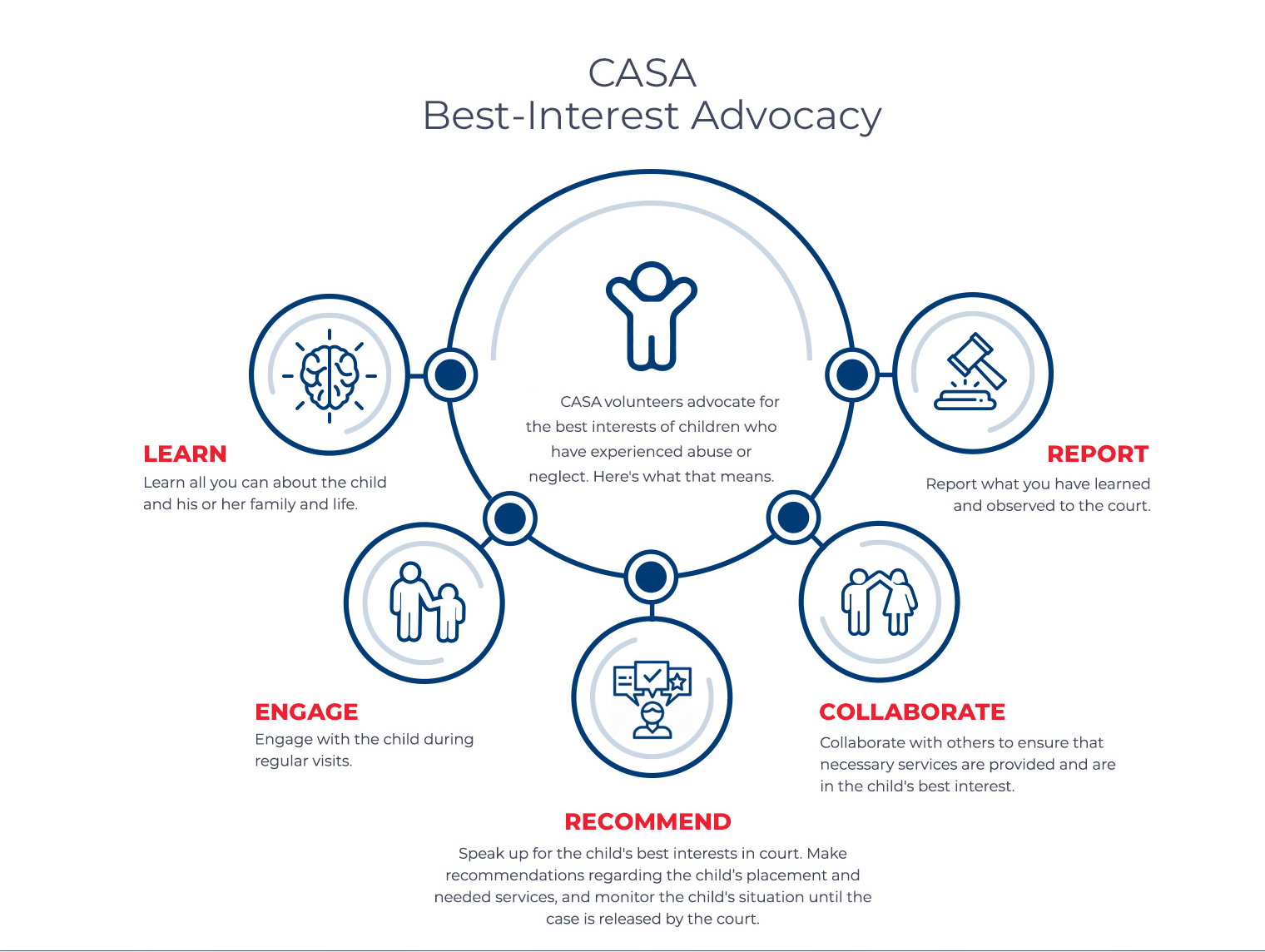 What difference do CASA volunteer advocates make?

> This opportunity allows you to have a significant impact on a child's life and and to see that impact firsthand. Children with CASA advocates are shown to spend less time in foster care and perform better in school than children who don't. As a CASA advocate, you are the constant support in a turbulent time in the child's life when foster parents, judges and social workers can change at any given time.

 

Who are our volunteers, and how are they prepared?

> Regular people, from all walks of life, who have been rigorously screened and trained extensively by their local program.

> Each volunteer receives more than 30 hours of training before they work with a child, with 12 hours of continued education required yearly.

> Receive ongoing support to advocate effectively on a child's behalf.

> On average, CASA volunteers are engaged 10-15 hours a month
---
How Do I Get Started as a CASA volunteer?
Click below to get more information on volunteering.
Not ready to be a volunteer advocate? No problem, stay connected by signing up for our newsletter. We'll be here when you are.
---
Volunteers
Our Volunteers
Our volunteers come from all walks of life and range from their twenties to their seventies.  Join them!  These are conscientious men and women who commit roughly two years to getting to know a child who has experienced abuse or neglect, and helping that child to find a safe, permanent home in which to thrive.  More information is available about how to volunteer.
The proven CASA model was praised by Nicholas Kristof in a November 2020 New York Times column; he wrote: "CASA…Volunteers provide support and advocacy for children who sometimes have no one else to trust, while helping them navigate the bureaucracy."  (He has included the CASA model among those endorsed at KristofImpact.org.) 
Connecticut CASA Volunteers
Kristen Allegro (Cohort 5)
Jennifer Barnard (Cohort 5)
Edith Barrett (Cohort 7)
Karen Bergin (Cohort 3)
Brooke Bosley (Cohort 5)
Bryan Bystrianyk (Cohort 7)
Grace Cannon (Cohort 5)
Kathleen Carr (Cohort 1)
Joanne Carroll (Cohort 5)
Maggie Cohn (Cohort 5)
Eileen Condon (Cohort 2)
Mahoghany Dolberry (Cohort 1)
Calvin Fang (Cohort 2)
Andrew Giering (Cohort 2)
Gary Shaune Gilbert (Cohort 5)
Marianne Gilmore (Cohort 7)
Tricia Goldburn (Cohort 3)
Jenna Goldman (Cohort 5)
Tanya Goldstein (Cohort 4)
Whitney Gutgsell (Cohort 6)
Warren Holcomb (Cohort 5)
Victoria Huckestein (Cohort 4)
Dwayne Jackson (Cohort 2)
Jacqueline Johnson (Cohort 4)
Kyla Kachinsky (Cohort 4)
Regina Keifer (Cohort 3)
Claire Kelley (Cohort 3)
David Kinahan (Cohort 7)
Eric Krupa (Cohort 6)
Adriana Latouf (Cohort 1)
Tiffany Lee (Cohort 4)
Jennifer Lemay-Sullivan (Cohort 6)
Amanda Liberman (Cohort 3)
Patricia Liptak (Cohort 5)
Jo Lopez-Lynch (Cohort 7)
Susan McKeon (Cohort 4)
Kristi Moore (Cohort 7)
Aimee Nicolich (Cohort 3)
Diana Pacetta-Ullmann (Cohort 6)
Larissa Pitts (Cohort 6)
Anna Preston (Cohort 4)
Nicholas Ramirez (Cohort 6)
Jeffrey Reitmeier (Cohort 2)
Claudia Sherman (Cohort 4)
Lila Simansky (Cohort 5)
Teresa Smith (Cohort 7)
Jonnathon Stadwick (Cohort 6)
Kyn Tolson (Cohort 2)
Sandra Tranquilli (Cohort 1)
Kristina Veselak (Cohort 4)
Briana Watts (Cohort 7)
Hallie Wofsy (Cohort 7)
Mary Woolsey (Cohort 2)
...
Beyond those above who have committed to serving children directly, CASA of Southern Connecticut benefits from the service of citizens who are lending their time and expertise as members of the Board of Directors, the Advisory Council, and the Ambassadors--along with several other individuals (e.g., Bianca Herlitz-Ferguson and Erin Hill) who have made in-kind donations of time, thought, and skill.  Thanks to all!