Miye Oni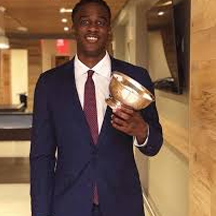 Featured in a Yale Alumni Magazine article as a member of the Yale College class of 2020 majoring in political science, Miye Oni was selected in the June 2019 NBA draft and joined the Utah Jazz team.  He received national attention in Forbes for his improbable climb from college Division III to Division I to NBA basketball prospect as a Yale junior in 2018-19.  A son of Nigerian immigrants, he is from southern California and at Yale was a member of the board of Students of the Diaspora, uniting those of African descent from around the world.  Also in college, he was involved with No More Names, to counter police brutality.  His Yale coach, James Jones, has called Miye "an outstanding talent and a better person."
Miye Oni played with the Utah Jazz from 2019-2022, recording his first NBA start and earning a reputation for defensive excellence and effort. In 2022-23, he helped lead the London Lions to the BBL title and their best European season, before signing with the NBA's Orlando Magic for the 2023-24 season. In summer 2021, he played on the Nigerian Olympic team at the Tokyo games--before which he helped the team stun the U.S. squad in an exhibition.
According to Miye himself, in making the transition from college to a pro career, "I will try to be the best role model I can be.... it is possible to excel in education and athletics."  Upon learning of the CASA movement through its New Haven-area work in spring 2019, he immediately expressed interest in helping to advance the cause.
Miye Oni and fellow ambassador Brandon Sherrod, along with CASA volunteer Dwayne Jackson, are featured on the Connecticut CASA YouTube channel--for example, in this video.  Miye and Brandon, and their CASA roles, were also highlighted in this article.